Eduroam Setup: Windows 10
Step 1
Connect to the "depaul" wifi network to begin the DePaul Eduroam setup.


Step 2
Select "Laptops".


Step 3
Click "JoinNow".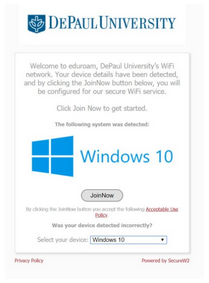 Step 4
The SecureW2 windows installer file will be downloaded to your machine. Please run this file once it has downloaded.


Step 5
You may or may not be prompted to run the installer depending on you Windows Defender configuration.


Step 6
Click "Next".


Step 7
Sign in with your BlueKey login credentials (username@depaul.edu email address and password).


Step 8
The installer will complete the setup and attempt to connect to the DePaul Eduroam wifi network if in range.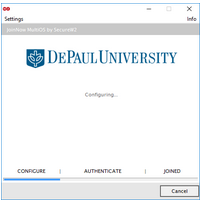 Step 9
If you are off site or not near the eduroam network you may receive an error. Don't worry, just click done and your should automatically connect once you are on DePaul's campus.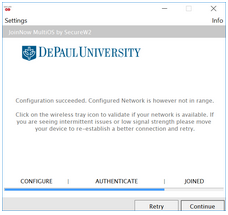 Step 10
The setup program has completed successfully. Click the "Done" button to exit the program.