Sponsored Guest WiFi Setup
Faculty and staff members may sponsor individual guests visiting campus. The visitor will need to provide the email address of the Faculty or Staff sponsor, as well as supply some additional information when registering for access. When sponsoring guest users there is a limitation of 10 total sponsored users within a 7 day period. If there is a need to sponsor beyond this limitation you should contact the Help Desk to have a conference ID generated.
---
If the device's pop-up browser doesn't open after connecting to the wireless network "depaul", open a browser and go directly to guestsetup.depaul.edu to register your device.
Step 1: Connect to the "depaul" wireless network and you will be directed to the "DePaul Wifi Setup" page. Click "DePaul Guest WiFi" to continue.


Step 2: Select "Register" under the "Sponsored Guest" option

Step 3: Enter the required information in the guest registration form. Ensure that you are entering in the "Sponsor's Email" correctly as well as your identifying information so the sponsor will receive an email alert with the appropriate details to approve your request. Click "Register" to submit your sponsorship request.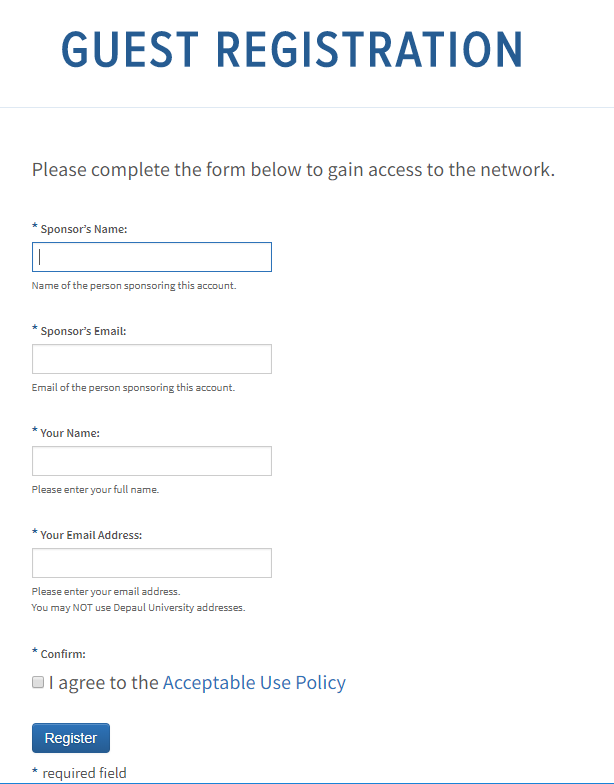 Step 4: While awaiting your sponsor to approve your request you should remain on this page.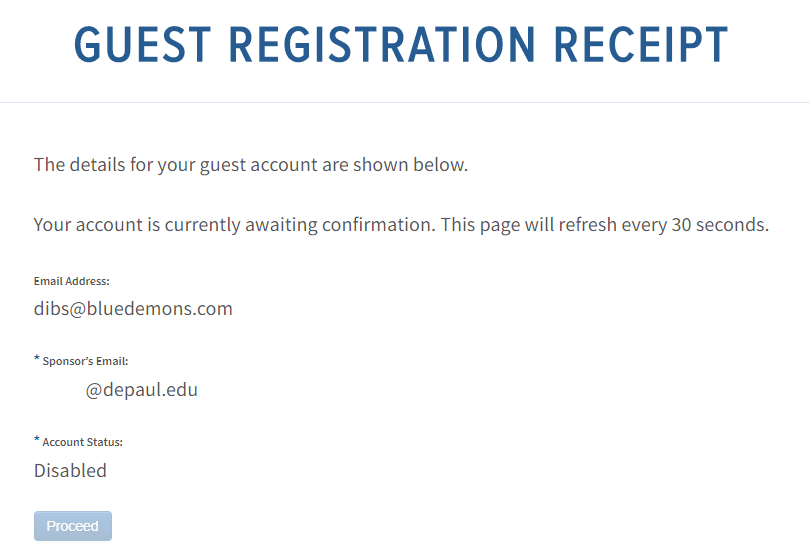 Step 5: Once the sponsor has approved your request for wireless access you will see this page refresh and the "Proceed" button will become available. Click "Proceed" and you will be redirected to DePaul's network, and should now have WiFi access.