Whether you are a home or business user, it is important to protect your data on the device, especially if using it for sensitive business purposes. There are things you can do to reduce the risks associated with using portable devices. Recommended best practices for individuals and organizations are listed below.
---
iPad
Use a Passlock
PassLock is set automatically when you use DePaul's email service. However, it is important to make sure that you have a Passlock set up,
On your home screen tap Settings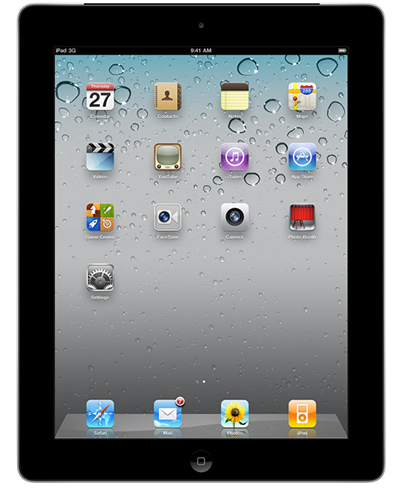 Then tap General -> PassLock
Then tap Turn Passcode on
Enter the Passcode you wish to have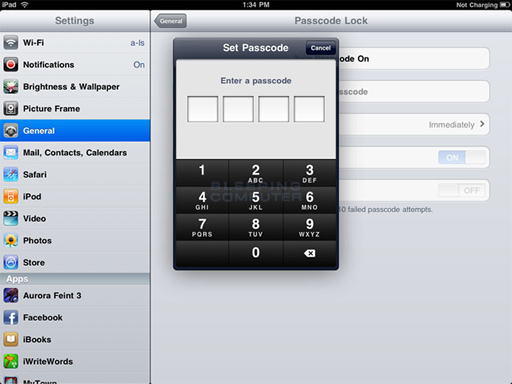 On the Passcode screen tap require Passcode
Select immediately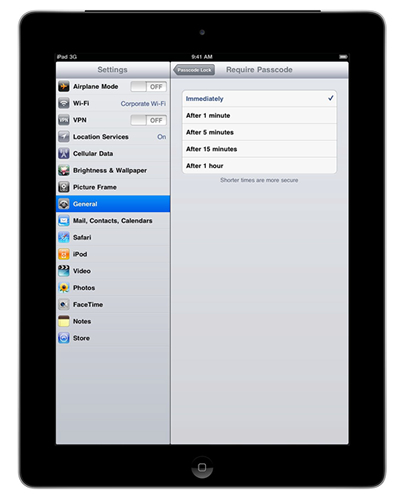 ---
Set up Auto-Lock and Local Wipe
On the General settings screen tap Auto-Lock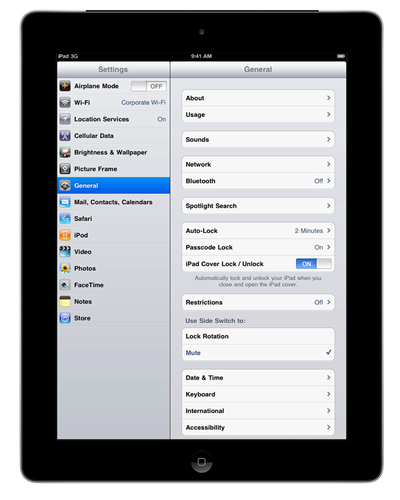 On the Auto-Lock screen tap 2 minutes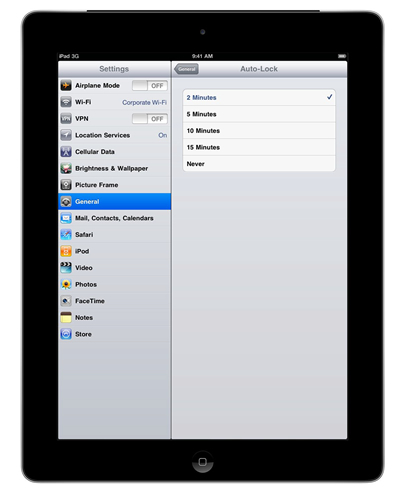 On the PassLock Lock page, turn Erase Data on. All Data on your iPad will be erased after 10 invalid PassCode attempts as an additional security measure.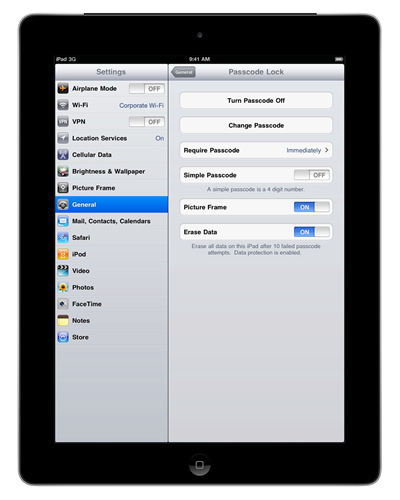 ---
Remote wipe
iOS supports remote wipe. If a device is lost or stolen, the administrator or device owner can issue a remote wipe command that removes all data and deactivates the device.
If the device is configured with an Exchange account, the administrator can initiate a remote wipe command using the Exchange Management Console (Exchange Server 2007) or Exchange ActiveSync Mobile Administration Web Tool (Exchange Server 2003 or 2007). Users of Exchange Server 2007 can also initiate remote wipe commands directly using Outlook Web Access. Remote wipe commands can also be initiated by MDM solutions even if Exchange corporate services are not in use.*
Apple's Security IOS Instructions
---
Find my iPad
Find my iPad is a feature that helps you locate and communicate with your iPad if lost or forgotten at any place. The feature allows you to perform the following:
Find my iPad helps you locate your device on a map.
You can also send a message that will appear on the screen of your iPad even when it's locked. The message could be "Hi I have forgotten my iPad, please call this number…"
You can play a sound to help you locate your device even when it's in silent mode.
Find my iPad helps you to set a pass code remotely to your iPad in case you have forgotten your device in a public place and you do not want your content and email to be compromised.
The feature also comes with the option to wipe all your content completely. This action cannot be canceled, your addresses, emails, contacts, photos and any personal information will be wiped from the device to protect your privacy.
---
How to install Find My iPad
On your device's Home screen, tap Settings, and then tap iCloud.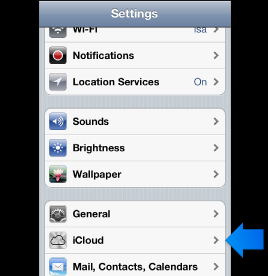 At the bottom of the screen, tap to turn on Find My iPhone (or Find My iPad or Find My iPod), and when asked to confirm you want this option, tap Allow.
---
Enable encryption for data (email, contact list)
iPhone and iPad offer hardware-based encryption. Hardware encryption uses 256-bit AES to protect all data on the device. Encryption is always enabled, and cannot be disabled by users.
Additionally, data backed up in iTunes to a user's computer can be encrypted. This can be enabled by the user, or enforced by using device restriction settings in Configuration Profiles.
---
Android Tablets
Google mobile provides helpful instructions about how to secure your tablet, the following link summarize recommended steps for securing your tablet.
Useful links and Instructions