iDePaul Mobile Application
For Users looking to try out the iDePaul App or looking for more information.
Get Connected with the iDePaul App
Relaunched this summer, the iDePaul mobile app has a new look. Now on a new platform, the mobile app promises to deliver up-to-date, important and engaging information to DePaul students.​
The student-facing app will display content from multiple university resources including campus news, social media accounts and event calendars. It will automatically refresh based on each student's unique interests and preferences.
In addition to being a convenient hub for university information, students can access other mobile-friendly resources directly on the redesigned app. Via iDePaul, students can browse courses and see D2L assignments, use campus maps, search the University Library catalog and more.​
Download the App
iDePaul provides an effective communication channel for the university to reach students and distribute personalized announcements and notifications. The redesigned app is available today for students to download directly from either the Apple or Google Play store: http://onelink.to/cmr4vb.
Important Information
The primary audience for the application is current students, therefore the app pulls only student registration information from Campus Connection. Faculty will not be able to see the courses that they are teaching.
iDePaul only integrates with Desire2Learn (D2L), not Jarvis CDM's Course On-Line (COL) Learning Management System.
If a course and its multiple sections are tied to one section in D2L, the mobile app is unable to show discussions and assignments.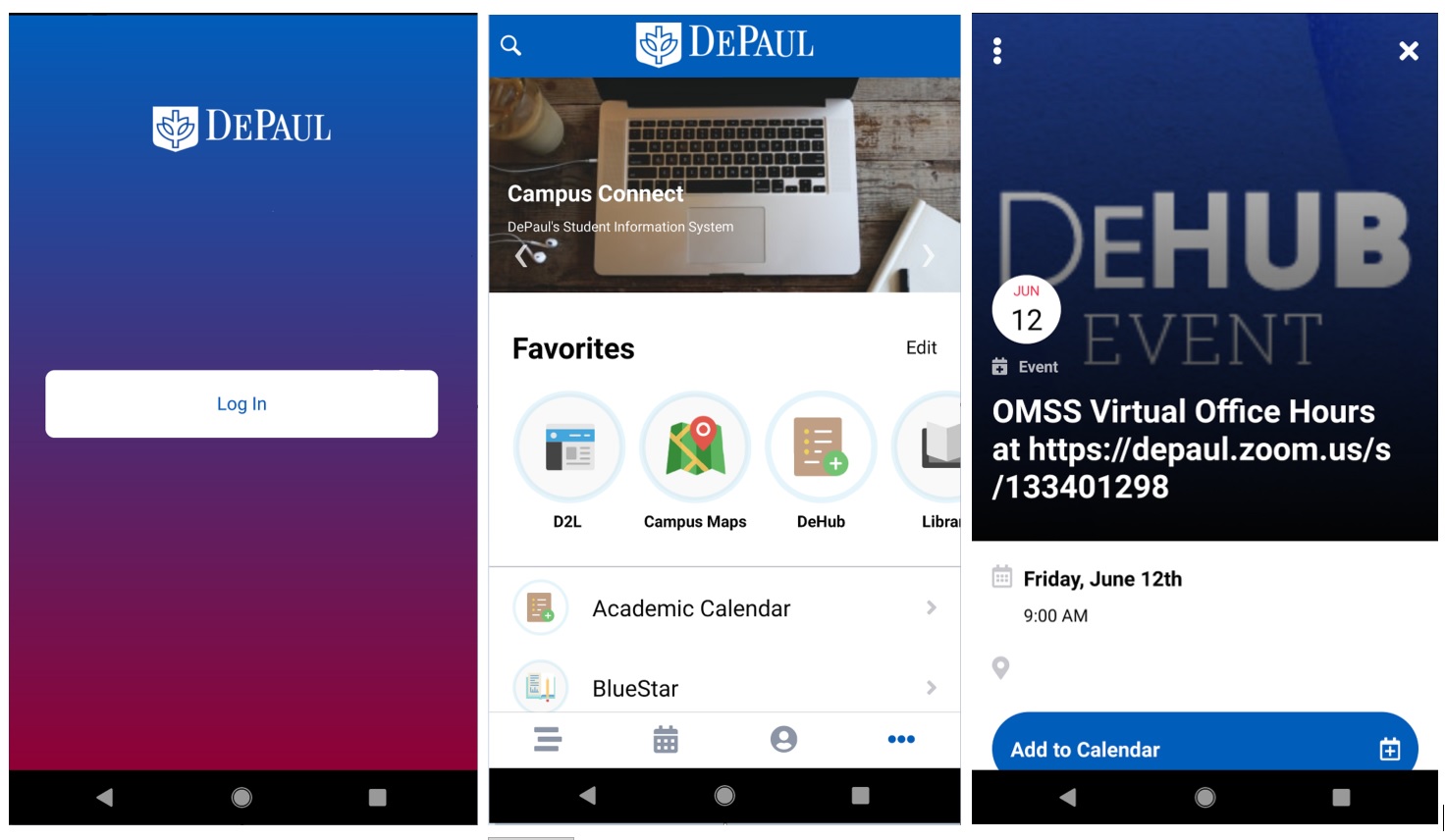 iDePaul App Features
| | |
| --- | --- |
| Feature | Description |
| Courses | Browse courses, view class times and locations, and D2L assignments & discussions, all on the go. Students get real-time information for courses they are enrolled in. |
| Events | Know when and where your favorite events are taking place. View details on upcoming events across campus including exhibits, concerts, campus speakers and more. |
| Maps | Avoid the stress of getting lost on campus. Find out where you are and where buildings and your classes are located on campus. |
| Directory | Search the public campus directory to find emails and phone numbers. For faculty and staff it shows business email and phone. For students without active FERPA blocks, the app will show preferred email only. |
| Notifications | Get instant notifications and campus bulletins, including reminders of tuition payments, registration dates and more. |
| Important Numbers | Immediate access to public safety office, student help lines and other important resources. |
| Athletics | Keep up with the latest development and news for your favorite campus teams. Includes sports articles, up-to-date news, scores and videos covering university athletic programs. |
| News | Get the latest headlines from across campus. Easily access student and campus news. |
| Videos | Enjoy a break by seeing what's been happening around campus. View videos from recent events, speakers and campus orientations. |
| Library | Search the library catalog and databases, view locations and hours, and access research guides. |