Jump to:
Why is nothing happened when I clicked the player icon?
Make sure pop-up window is enabled. Reload your page after changing the settings. If you use mac computer, every time you update your system, You must reset your pop-up again.
Why I can not see COL widget in D2L?
If you can't see the COL widget on D2L, please contract your instructor to enable COL widget. You can also use the link bellow to view your lecture : https://courseonline.cdm.depaul.edu/Play
What should I do when it displays "sts.is.depaul.edu refused to connect"?
The COL widget in D2l is an iframe embedded in D2L site, please try refresh D2L web page to reload COL widget. If you continue get this error, you can directly open the COL widget with the following link:
https://courseonline.cdm.depaul.edu/Play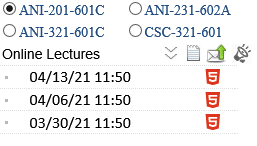 If you still have problem, please submit error tickets.
How can I get COL Player App for my cell phone/pad?
How can I get COL offline App for my desktop computer?
You could install HTML5 offline player, here are links: