Remote Desktop (RD) Gateway: Manual Connection for Mac and MacOS
Manually configuring an RDGateway connection.
To manually configure the RDGateway connection, go to Microsoft Remote Desktop > Preferences: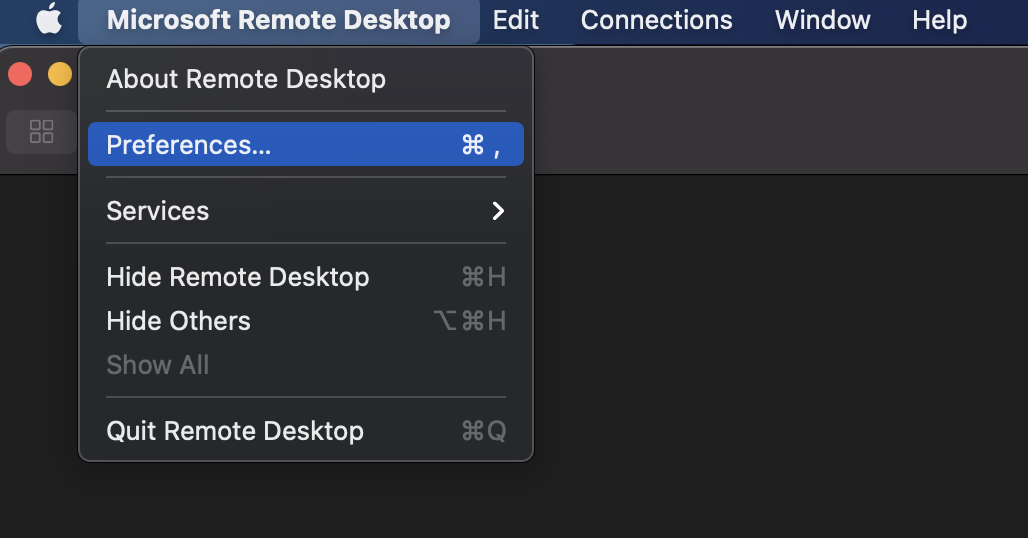 Click the Gateway tab, then the plus sign in the lower left hand corner to add a gateway. Enter the settings as pictured, then click Add to add the gateway. Afterwards, close the Preferences window:
Gateway name: rdgateway.depaul.edu
Friendly name (optional): Enter an alias of your preference to refer to the RDGateway, or leave blank
User account: Use PC User Account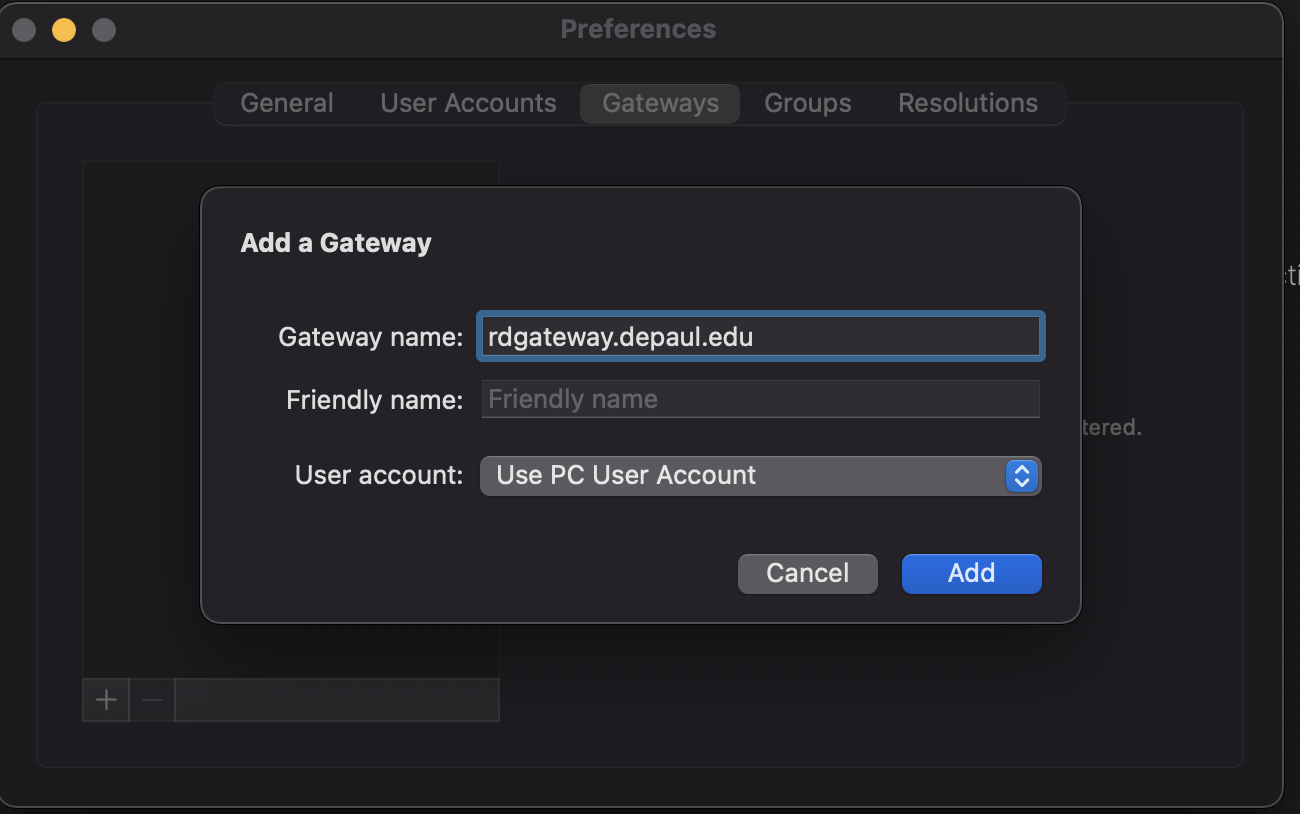 Go under Connections > Add PC. A new window will pop up.

Enter the settings for the Connection as pictured, then click Add:
PC Name: The IP address of your machine (usually beginning with 140.192, replace the x.x below with your full IP address for the machine).
User account: Ask when required
Friendly name (Optional): Enter an alias to name your remote PC (example: OnCampusPC). If you do not enter anything, the IP address will be used as the name.
Gateway: Select the pulldown arrow to the right and choose the RDGateway you configured earlier.
Bypass for local addresses: Uncheck this option if it is checked.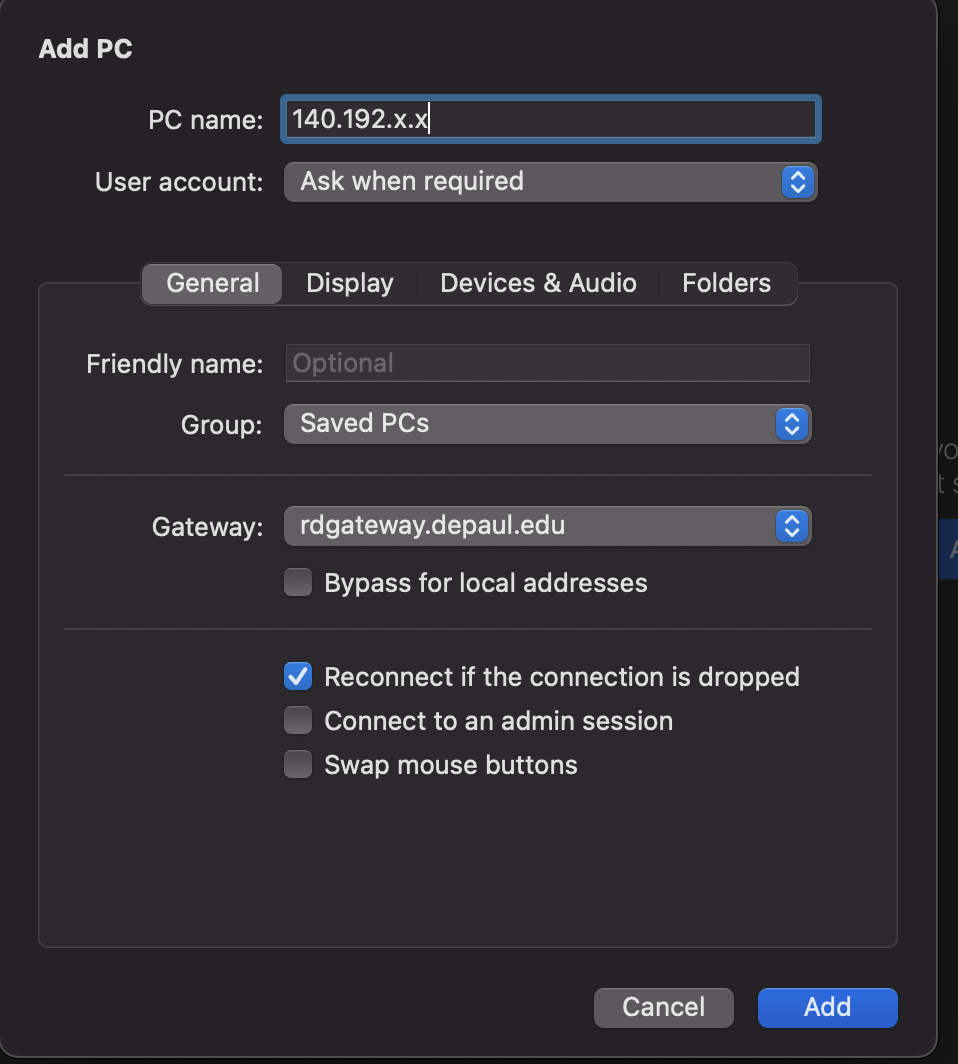 The result will be an entry in your available Microsoft Remote Desktop connections with either your Friendly name (if you entered one) or the IP address (if you left Friendly name blank):
When you are ready to connect, double-click this entry. You will be prompted to enter your BlueKey password for your username (ensure the Username is in the format DPU\username or username@depaul.edu, where username is your BlueKey ID). Do so and click Continue. You may be prompted to accept a certificate – if so, click Continue when prompted.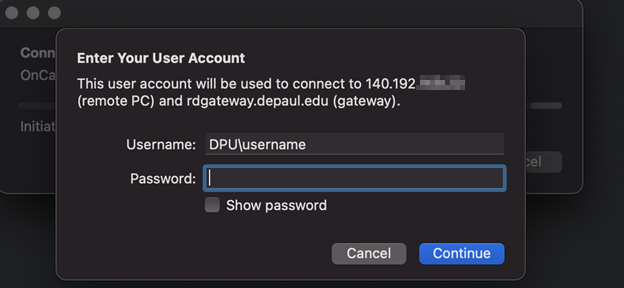 After the Microsoft Remote Desktop client finishes configuring the PC connection, you should be logged into your Windows desktop.