This article will teach you how to schedule events through 25Live.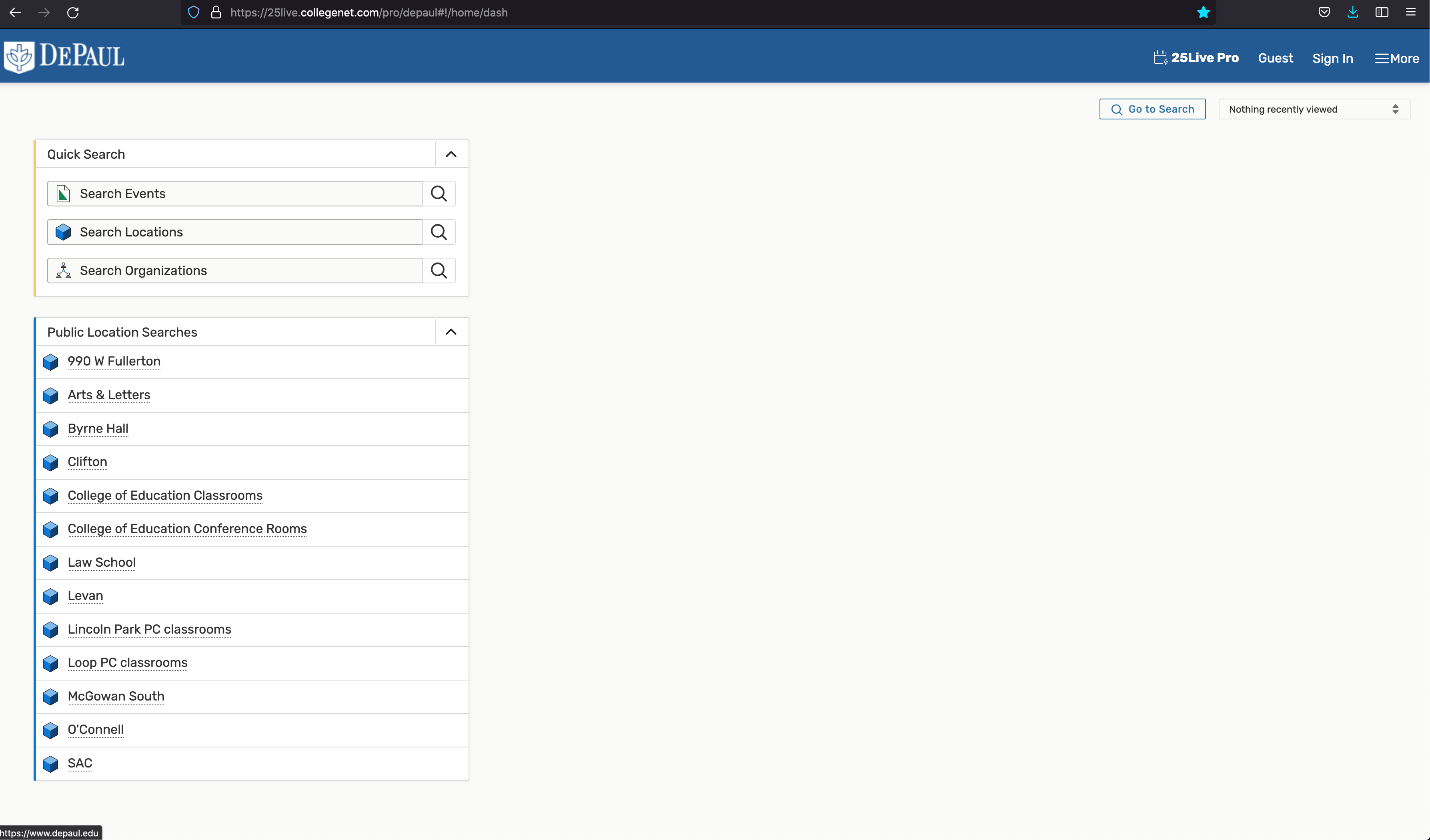 You should be led to the page below – if not, click on the 25LivePro option on the upper right hand corner.
To create an event/meeting room request click on the middle blue "Create an Event" button.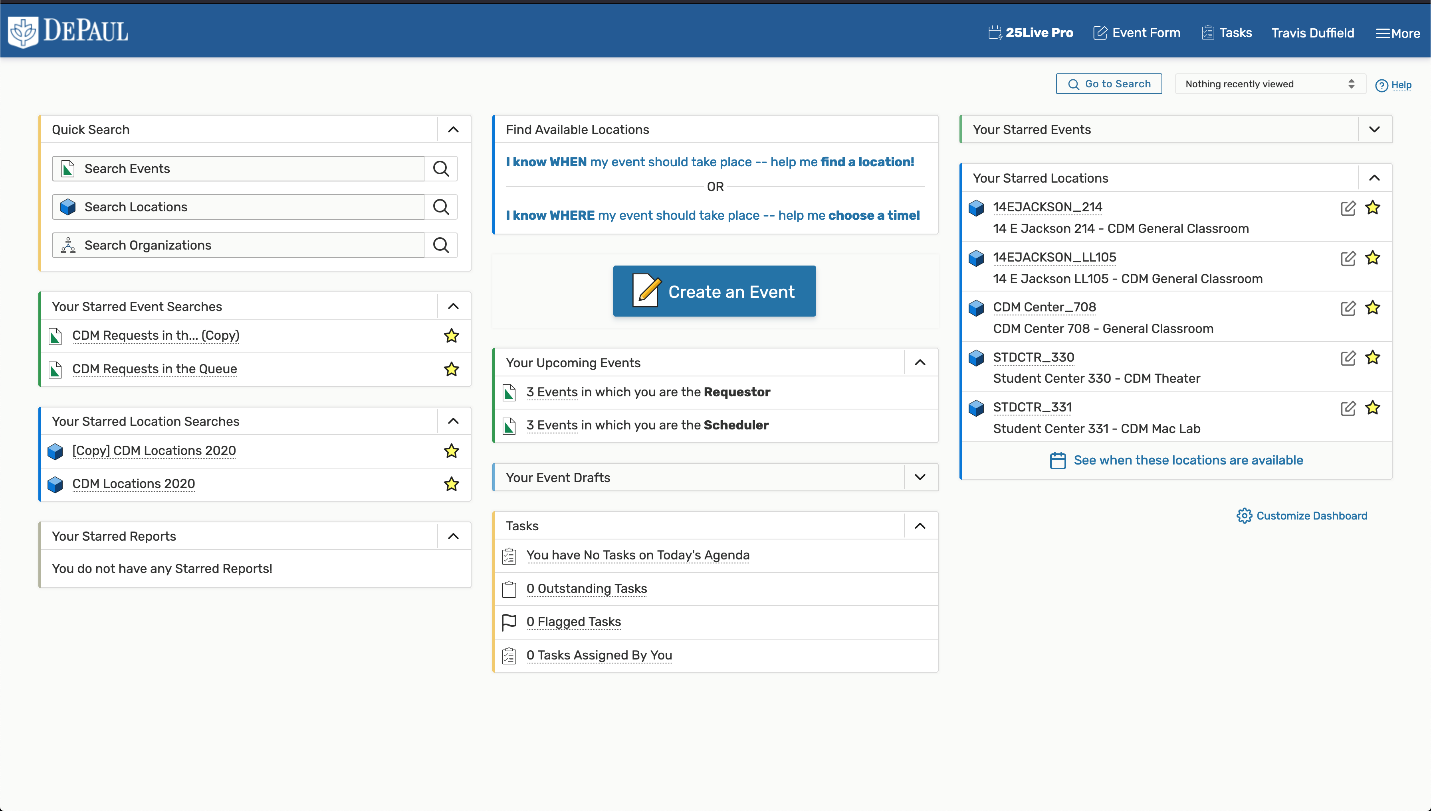 Next, fill out a name for your event.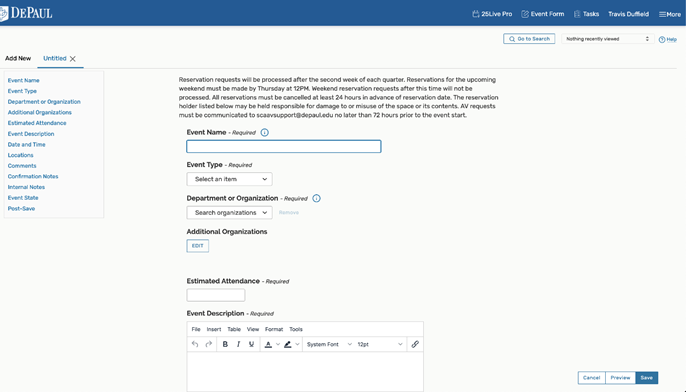 Click on Event Type and select the proper form. Each form corresponds to a different room selection.
CDM Event is for all events and meetings that require more than just a room- things like catering, wifi, etc.
CDM Meeting is a no frills meeting space request form.
CDM School of Cinematic Arts Space Reservation is a form for students, faculty, and staff looking to request a space for activities such as castings, screenings, organization meetings, etc.
SCA Edit Suite and Sound Studio Reservation- this form is for students, faculty, and staff looking to reserve a time in one of the five edit suites or two sound studios on the loop campus. Please note that reservations for the sound studio require a certification number that can only be obtained after successfully completing a training for those spaces.
Next, fill out your estimated attendance so as to help search for an appropriately sized room. Then fill out a detailed event description and a specific time and date for your event.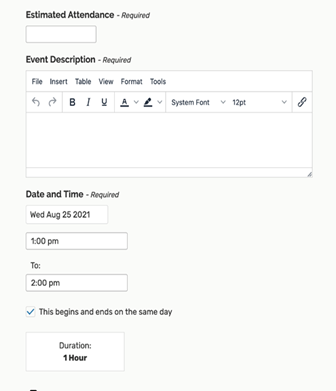 Search for rooms by number rather than building name if you already have a room in mind. This will make finding the specific room faster.
Under more options, you can search by what features you need. 25Live will automatically filter to show available spaces.
If your meeting requires additional set up/breakdown time, please include that in your event time.
Multiple rooms can be added for the same event, if the event requires more space.
If this is a recurring meeting, you can indicate this by clicking on the repeating pattern button above.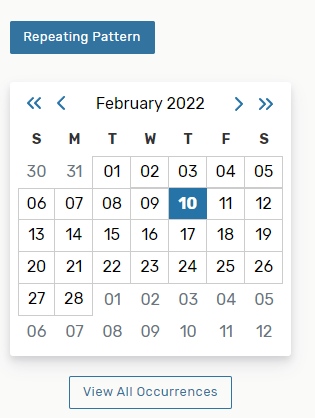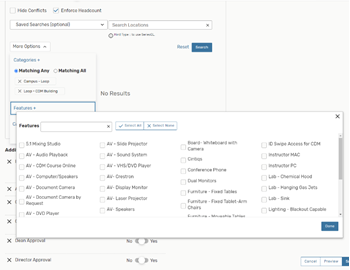 Ensure you hit the blue request button to select that location.
.
Fill out the add details section to allow proper planning and follow up. Each form has a different set of questions.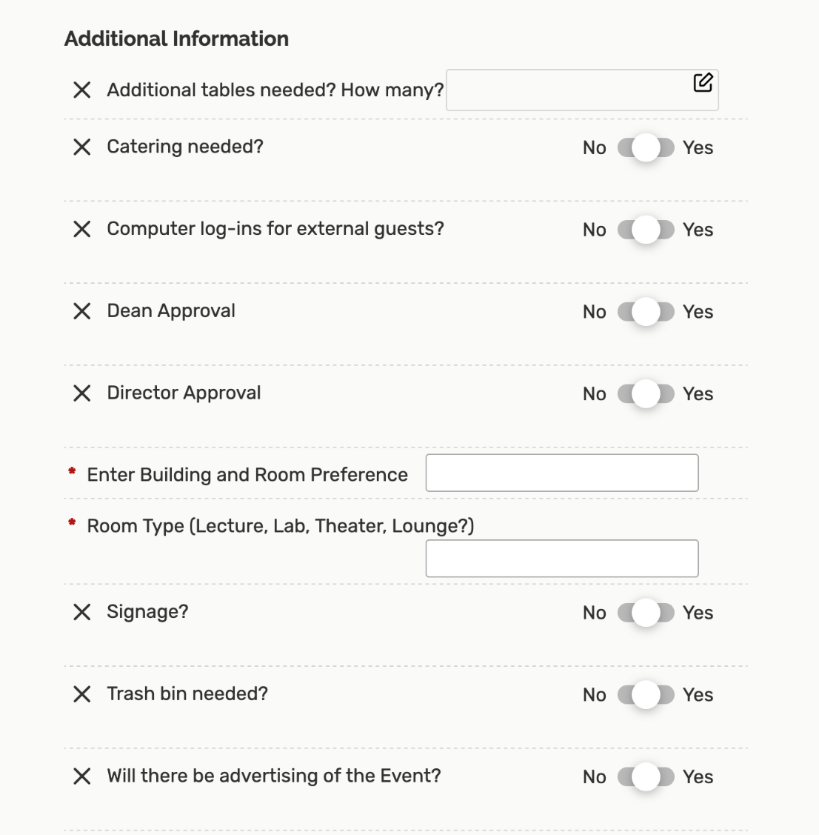 Once complete, Save and Finish your request.
To do this, click save and request at the bottom right hand corner. A staff member will reach out regarding your request within two days.
If you have any questions or concerns you'd like to make staff aware of, please use the comment box for this. Once you're done – review your request and hit the save button at the bottom right hand side corner.

Once complete a staff member will reach out to you regarding your request in two business or less.